Prison Outside Public Discussion
International conference on art in and around prison.
Auditorium, Galleria Lapinlahti, 23.5.2017

"A very positive experience. (After this conference) I don't feel marginalised anymore, but instead I can see a real interest of the subject from the ordinary, so to say, people. And then you understand that prison, as much as any other subject, can be interesting and open. It depends in on the context you speak about it, and with whom.

I think it's very important to to take the subject of prisons to ordinary people, internationally, outside of the usual context. Increasing the awareness is easier and better done through the arts, more honest. And talking with international activists, strange as they might seem, is also very inspiring - you are not alone."

Anna Voronkova, artist and translator, "Center for Prison Reform" (Центр Содействия Реформе Уголовного Правосудия)

"Visit to Prison Outside event had the greatest impact on the participants, particularly on me, got my brain working. I got new ideas for my art workshops with youngsters in prison. This exactly what in my normal routine I find hard to evoke. We spoke with the inmates who are currently in socialisation program, met other project participants and presented at the public discussion. Even though quite formal, these events left me with the feeling that there are people who are interested in what we do."

Varvara Yakovleva, artist and translator, animation workshop leader "Center for Prison Reform" (Центр Содействия Реформе Уголовного Правосудия)


Prison Outside is a public discussion on artistic projects in and around prison. In this event international speakers will introduce collaborative practices that connect incarcerated people and the public outside the prison. We will discuss how we, as outsiders, view incarcerated people, and what can be done to challenge the negative relationships with current and ex-convicts, replacing them with empathy and solidarity. What is the purpose of imprisonment and how can artistic practices challenge the stigma it produces? Collaborators from Finland, Russia and the US will address engagements between artists, inmates and representatives of NGOs through practices that centre on personal, open and empathic approach.

Languages of the discussion are English, Finnish and Russian.

We were very excited to be able to host this event, which will hopefully become one of many. Here is an account of the evening by Arlene Tucker. It is an excerpt from a longer paper. You can read it here.

"Gatherings to share work practices and experience is essential not only in personal growth professionally and personally, but to strengthen the purpose of the work, at large. Discussion was around "how we, as outsiders, view incarcerated people, and what can be done to challenge the negative relationships with current and ex-convicts, replacing them with empathy and solidarity. What is the purpose of imprisonment and how can artistic practices challenge the stigma it produces?" Collaborators from Finland, Russia and the USA addressed engagements between artists, inmates and representatives of NGOs through practices that centre on personal, open and empathic approach.

Thirty-four year old Sonny Black from Finland who is living in an open prison in Helsinki started the evening. He is a rap artist serving his 12th year in prison. Black started his presentation with, "I have been in institutions for 32 years of his life." He did not share with the public why he was sent to prison when he was 18 years old, why he got life sentence when he was 21 years old, and why he will be set free in a couple of years. More so, he focused on how music has had a positive impact not only in his life, but has been a catalyst to reach out to youngsters on the street who are in need of support. He chooses to work mostly with youth because he feels that he can help them and influence them whereas with adults, if they are not willing to stop and change their ways, he cannot do anything for them. Black knows where the weight of his presence matters.




Personal contact and direct attention with individuals goes a lot further than generalized help initiatives. Black, from his own intuition, uses that tactic to reach out to youth through his music and group G.W.A. Gypsies with an Attitude. Black makes himself available for his students so that he can "spend time with them, to talk with them, eat, and solve problems." He said that these particular youngsters who find trust in him don't trust the people working in the youth centers. They don't like going there. Youth centers with all their good intentions are ultimately government-funded institutions which put off certain groups of people. In the song Legacy, written by EK, Lil Mercy, and Troublemaker, Black raps about being in two different worlds, societal order, and his mission for helping youth through music making. Street Life Records makes it possible to make voices be heard.

Anna Voronkova is a linguist and translator from Russia. Voronkova was first introduced to working with prisoners through La Resistencia magazine in Argentina. Since 2012 Voronkova has been facilitating comic book workshops with juvenile prisoners aged 16-18 years old in Russia together with Moscow Center for Prison Reform. She is also project coordinator for Respect, a joint initiative of the Goethe Institute Moscow, the Youth Human Rights Movement, the Moscow International Comics Festival «KomMissia» supported by the European Union. Voronkova mentions that time with the workshop participants is precious because minutes can be easily taken away due to lunch breaks and security checks. Once a month a volunteer visits the boys juvenile detention center to make a three hour comic workshop about 100 kilometers away from Moscow. The girls juvenile detention center needs a night train to get to because it is located in southern Russia, 12 hours away from Moscow. Due to the long distance, volunteers have 3-4 hour workshops for two days and visit only once every three months.



Graphic stories and making comics is a medium that is approachable for youngsters to create in. Voronkova's approach to creating comics is personal and gives room for one to safely travel between comfort zones. In one of the workshops, she asked her group of teenage girls, Who knows the story of how their parents met? Only two girls raised their hand. When she asked if they would like to share that story, only one of the girls volunteered. That is how the story, Fight for Love. Prison destroys love was born. From the girl's personal story, every participant could then tell their own interpretation of her parent's love story. This activity made space for discussion on what really happened, how the listener's perceived the story, and then actively choosing how each person would like to make the ending of the story. Voronkova shares that by "retelling the story it is not your story anymore." This process of revealing, taking distance, and then listening to your story told from another voice is a powerful form of creative self expression and rehabilitation.


Still from The Little Prince, created during animation workshops by Varvara Yakovleva.

Over the course of three months, once a month, Varvara Yakovleva, animation artist and film director, teaches animation at a juvenile prison housing 14-18 year olds in Russia. Together with the participants, they have created an animated version of The Giving Tree by Shel Silverstein and The Little Prince by Antoine de Saint-Exupéry. Despite having prison guards present at all times Yakovleva successfully created an environment for everybody to feel safe and trusting. Animation is such the process where it requires every person to carry their weight in order to have a beautiful outcome. Through this sort of group work every participant felt important and at the same time wanted to learn more. In this sense, building an environment where people work together positively and can immediately see the fruits of their work is the most healing, encouraging and rewarding part of the process."

Juha Valkeapää (Finland) is a sound & performance artist. Valkeapää discussed his recent lecture performance Executed Stories as well as his work in Kerava prison in Finland. Read (and hear) more of his work here.

Joining from across the world via Skype was Sarah Dahnke, the founder of Dances for Solidarity project. Sarah Dahnke (USA) is a Brooklyn-based choreographer and arts educator. She is the founder and the director of Dances for Solidarity, a New York based choreographic letter-writing project. There, alongside a personal letter, collaborators list a series of choreographic movements, encouraging people in solitary confinement to dance in their cells. Please read our interview with Sarah here.




Journalist Mikhail Levin (Russia) together with Rulan will present a criminal creative writing magazine on life in and after prison. He will discuss possibilities of international collaborations between artists, prisoners and journalists for the upcoming full first edition of the magazine.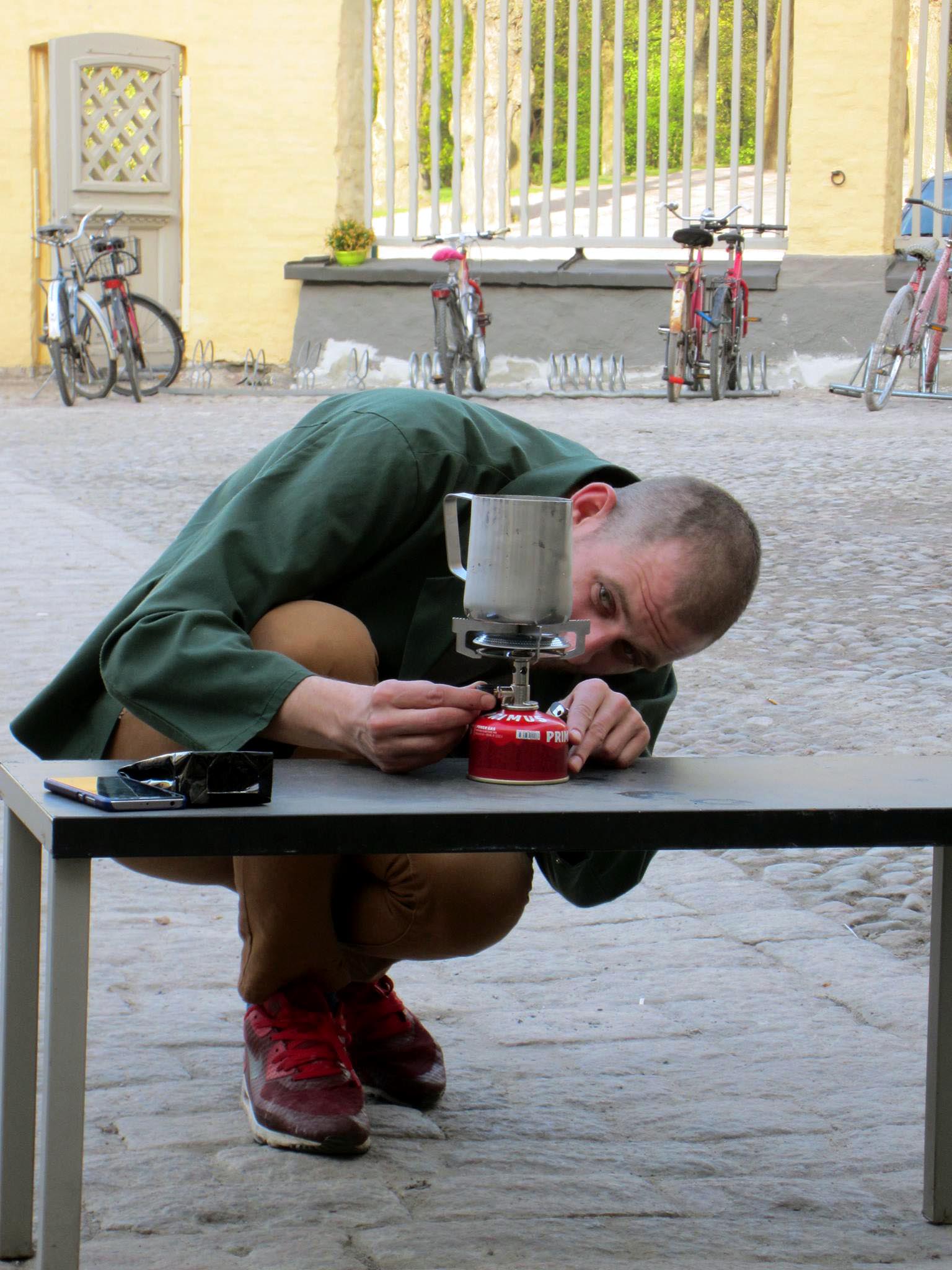 A performance, connecting two places also with the help of technologies, old and new, was a closing event of the evening. In Moscow, Rulan, who recently got our of prison, where he spent, in and out, around 25 years overall, togther with his friend artist Katrin Nenansheva, described and showed step-by-step how to make a prison drink "chefir", a stimulating drink based on boiling tea leaves.



Photographs: Anna Rawlings and Anastasia Artemeva
Curator and interpreter: Anastasia Isakova
Prison Outside is supported by Kone foundation